Details
Date:
September 20
Time:
06:00 pm - 09:00 pm
Click to Register:
Click to Register
Venue
Zephyr Grill & Bar Brentwood
613 1st St, Suite 100
Brentwood, CA, United States, 94513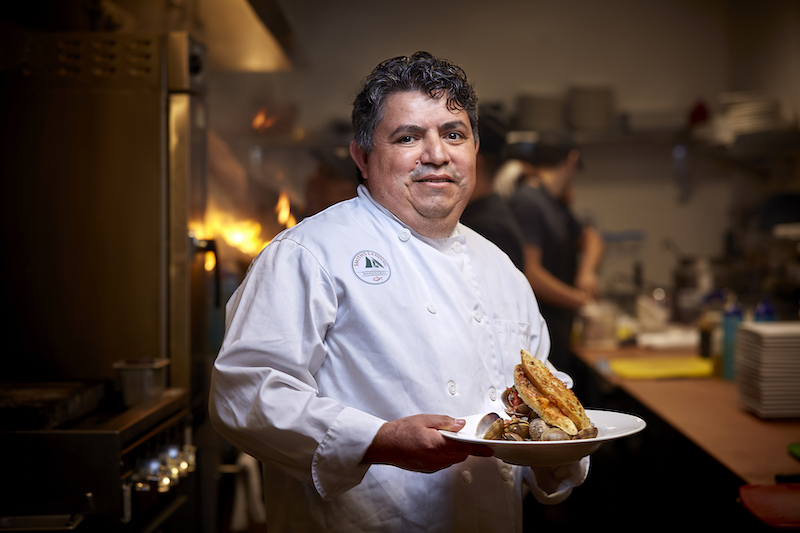 Chef Jesus graduated from culinary school in Mexico and has been in the restaurant industry for 23 years. He also oversees the menu at Zephyr Grill's locations in Livermore and Brentwood. With winemaker's dinners such as these, Chef Jesus says he enjoys the "challenge of finding the flavors and dishes that pair with the wines."
One of the most versatile chefs in the area, Jesus enjoys regularly changing up the menu at all three restaurants he oversees, and owners Lynn and Randy Tei say "he does it all" — Italian cuisine, Chinese, American, French, Asian, and Mexican. For special events like the winemaker's dinners, "he does a fantastic job bringing out the complex wine notes with his dishes," Lynn said. A "foodie" at heart, when Jesus isn't working, he lovingly tends to his herb garden and fruit trees. Over the years, Chef Jesus has collaborated with several local wineries, including Bloomfield Vineyards, Petersen Vineyards, and McGrail Vineyards, to name a few.
Tuesday, September 20, 2022, at 6pm
Sparkling Welcome Reception with Small Bites
Join us for another wonderful menu created by Executive Chef Jesus Martinez for a winemaker's dinner featuring wines from Napa Valley's Rombauer Vineyards!
4 Course Dinner
Shrimp & Corn Tamale
Argentinian wild shrimp | local corn tamale | chardonnay-confit garlic cream
2021 Chardonnay, Carneros
Alaskan Halibut
crusted with gruyere cheese | leek fondue-parsley sauce
2020 Proprietor Selection Chardonnay, Carneros
Filet Mignon
peppercorn crusted | wilted kale | foraged mushrooms | parsnip puree | cognac sauce
2019 Cabernet Sauvignon, Napa Valley
Bittersweet Chocolate Cake
caramel popcorn | salted caramel sauce | vanilla bean ice cream
2019 Twin Rivers Zinfandel, El Dorado County
$125 per person
(exclusive of 20% auto gratuity and sales tax)